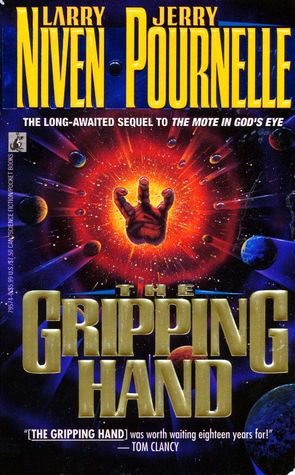 The Moties series is a strange one. Written in collaboration by Larry Niven and Jerry Pournelle, the first book, The Mote in God's Eye, was released in 1975. The second book in the series, The Gripping Hand, was published in 1993, also a collaboration. The third one, Outies, was published in 2010 and it written by Pournelle's daughter. The action in the books is also happening decades apart.
As I was saying some days ago, I liked the first book quite a lot. It was cerebral and carefully crafted. In a sense, The Gripping Hand is more than the first book, it's more cerebral and grips (heh!) the reader in even more details. But at the same time, they get to the Moties' star system only after two thirds of the book, a part of the story that is only about people discussing things and planning things and arguing things, then the last part is a prolonged space battle between so many parties that nothing is clear. Meanwhile, detailed negotiations and planning take place, so you don't get out of that for the entire length of the story.
So, yeah, it brings some new ideas, but at the same time it's really boring and hard to follow. And it becomes especially jarring when you realize that the details in which the story is bogged are just a small subset of what could have been: the Motie culture, the way they spend their lives, the way they actually feel as individuals is completely missing. And, spoiler alert, Outies seems to be going in the same direction, although it does appear to want to address the lives of Moties outside the negotiations with the Human Empire.
Bottom line: I liked it, but much less than the first book. That doesn't mean it's not well written and that it doesn't add value to the universe created, but it needs significant investment from multiple writers to bring it to a critical mass so that people pay attention to it.