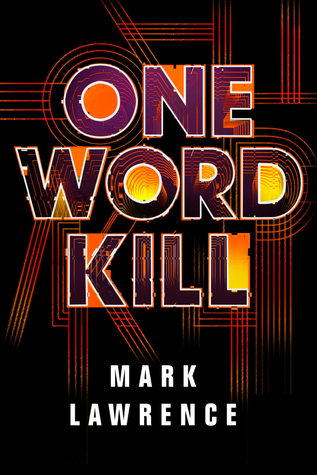 One Word Kill starts off like an episode of Stranger Things. You've got the weird kid, his weird friends and the mysterious girl who is both beautiful, smart and hangs out with them to play D&D, all set in the 80's. Then the main character gets cancer and his future self comes to save... the girl. There is also a school boy psycho after them. But that's where the similarities end... the rest of the story is just... nothing. People explain things that needed little explaining and make no sense, good kids and their parents run around from a school boy, as psychotic as he could possibly be, without involving police or gang member allies and, in the middle of all the drama: cancer, psycho killer, future self, time travel... they play Dungeons and Dragons, a game that promotes imagination and creativity that then the protagonists fail to use in any amount in their real life.
Having just read Prince of Thorns, I really expected a lot more from Mark Lawrence. Instead I get a derivative and boring story that brings absolutely nothing new to the table. It's reasonably well written, I guess, but nothing Wow!, which is exactly the reaction reviewers seem to have about this book. Have I read a different story somehow?
Bottom line: I am tempted to rate this average, on account of other raving reviews and on the fact that I liked another Mark Lawrence book, but I have to be honest with me and rate this book alone, which I am sorry to say, is sub par.