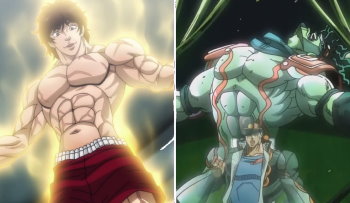 First of all, neither am I a philosopher nor have I read Nietzsche. The philosophical aspects that I am discussing are how a layman would interpret them. In this post I am going to discuss anime from the Baki Hanma and JoJo's Bizarre Adventures universes with a nod to Andromeda's race of genetically modified humans called Nietzscheans and also other media portrayals of similar concepts.
Watching episodes from Baki or JoJo anime I got a weird feeling. Both series, while having completely different plots, focus on humans with superior abilities fighting each other. Nothing new here: both American and Japanese cultures are inundated with this cliché. Yet these shows are strangely humanistic in nature. The characters have impossible strong muscles, dress in their own special way and are proudly dedicated to particular philosophies that define their path in life. Compared to other people, they are intimidating, entirely dominating, and they are so strong that they defy the laws of medicine and even physics. They use their power in tactical and strategic ways, they hone their skills, they outthink their adversaries and use whatever the environment gives them in order to win. And this in order to gain power only over themselves.
In so many ways, they reminded me of the Nietzscheans, from Gene Roddenberry's TV series Andromeda (before the show went to shit, so first season only). They also reveled in their physical, mental and knowledge prowess. Violence, to them, was justified as a way to eliminate weakness. The characters in the two anime shows are the same: they risk their health, their lives, in order to try themselves to the limit. As a result, they cannot exist in human society. People can't abide such obvious difference, when these guys are stronger than guns, impossible to detain through cuffs, chains, walls or cages and at any time they can just destroy a normal human being with little to no effort. It is this part that actually got me thinking and writing the blog post.
Usually in media, people who care only about their own betterment to the point they eschew social norms are portrayed as villains. Human values are represented as communal values: caring about others, respecting their way to live, abiding social constraints and obeying laws, forming bonds and families, then dedicating effort to maintain and preserve them. The hero will defend, not attack, will arrest, not destroy, will consider, not dismiss, will protect, not invade. In fact, a hero is a social construct and can only exist as society's protector.
In regular situations, the ones that are considered normal in society, heroes are not needed. Performance is not needed. There are some boundaries in which one is allowed to strive for better output, but only as cogs in a social mechanism that needs them to perform within expected ranges. Only when things go awry, from the breaking of a component (be it a tool, a flow or a person) to some huge disaster, some people "step up" and take over the load. Those are heroes. And here is the dilemma, because someone who has not made the effort of being better than expected of them will not be able to step up, while someone who does make the effort is inevitably vilified during "peace times".
This reminds me of Rambo, in the first movie and not the ridiculous propaganda sequels. Here is a man who, through circumstances that needed to be tragic and out of his control so as to enhance his heroic status, reached a level above his peers, at least in one particular domain: fighting and killing. He was perfect as a soldier, but as he returns home he has difficulties integrating himself back into society. It takes only a small town sheriff bullying to bring the beast to surface. The old adage still stands: the best heroes are all dead.
Going back to the animes, I found myself in conflict. Here is the usual portrayal of society, a safe place for everybody to live in, defining what human life is and should be like, but functioning as a soulless mechanism. And here is the usual portrayal of the self absorbed villain, a monstruous being of immense power who threatens the existence of all, but functioning as a proud individual constantly bettering themselves. I feel like the latter option is more humanistic, therefore truly being human is in antithesis to human society.
Can there be a balance between the two? Could we actually imagine a benign Nietzschean-like society? One that would truly embrace diversity, specialization and performance while despising mediocrity and also not eating itself from within? I find it hard, if not impossible. Still, I can't but feel a sort of admiration for these larger than life characters and their dedication to a random thing than then defines them for ever.
What do you think?